Midday Dog Walks & Potty Breaks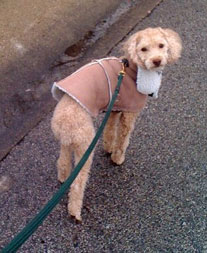 Amy's Happy Critters specializes in midday walks for dogs. This service provides exercise, attention and potty breaks for your dog. It is especially useful if your dog is very young, older, very active or any combination of these things! Midday visits can provide a healthy outlet for your dogs energy. It can help to prevent destructive chewing, bathroom accidents and boredom. I will walk your dog and reinforce any training that he/she has had or is getting. If you and your dog prefer we can spend the time playing indoors or outside in your fenced yard.
With Amy's Happy Critters your precious canines are always treated to private dog walks. I'm often asked if I do group dog walks—picking up multiple dogs from many households and walking them together—the answer is no. Your dogs get quality, private play time with his pet sitter, as they should!
Flexible Scheduling Options
I understand that your schedule may be different from day to day so there are several scheduling options available. You can schedule and pay for your pet sitting visits on the first of each month and receive a 5% discount. If you prefer to schedule and pay weekly, bi-weekly or by the day that is also an option. I will make every effort to visit your pet at the requested time even in the event of a last minute request.
Midday, early morning and late afternoon pet sitting visits are available. If you have to go somewhere directly from work, you can schedule a late visit instead of, or in addition to, your midday visit. This can help to maintain your pet's schedule while allowing you the freedom to alter yours!

Early morning dog walks are generally scheduled
between 7:00am and 10:00am.

Midday dog walks are generally scheduled
between 10:00am and 3:00pm.

Late afternoon dog walks are usually scheduled
between 3:00pm and 5:00pm.
Free Initial Dog Visit
The first step to making your dog a Happy Critter is to schedule your free initial visit. This visit generally lasts 30 minutes to an hour but I will spend as much time as necessary to answer any questions you have and to make friends with your dog. After your dog, you and I have met, you can schedule any of the services offered. If you don't see the service that you need, just ask.