Raised Pet Feeders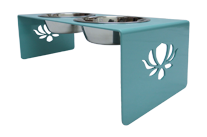 Lotus Design Raised Pet Feeder
This design features a cut out of a lotus flower on both sides.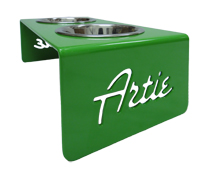 Pet's Name Custom Design Raised Pet Feeder
A special pet deserves a special feeder! Order a feeder customized with your pet's name cut out of both sides of the feeder. Two pets one feeder? No problem. Enter both names and we'll put a name on each side of the feeder.
Quality Construction, Hand Made, Powder Coated Raised Pet Feeders
Raised pet feeders place your pet's food and water at a more ergonomically correct position and help keep your feeding area tidy, and attractive. Our feeders are made in house to your specifications and include two, polished stainless feeding bowls.
Each order is custom. Please allow three weeks for us to make your feeder.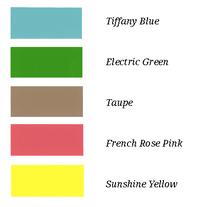 Feeders are available in 4", 6", 8", 12", and 18" heights to accomidate all size pets. To find the correct height feeder for you dog measure from the top of the dogs shoulders to the floor and subtract 6 inches. For example a dog that stands 12 inches high at the shoulders would use a 6 inch feeder. 4" feeder is recommended for cats.
Four inch feeder comes with two, one pint bowls. Six and eight inch feeders come with two, one quart bowls. Twelve and eighteen inch feeders come with two, two quart bowls.
Feeders are made of steel and powder coated in your choice of colors. Suitable for indoor or outdoor use.
Want a custom size, color or design? No problem, just ask! Wholesale inquaries are also welcome.