Exotic and House Pet Care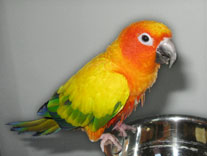 Since 2003 I have had the opportunity to care for many types of exotic pets. If I do not have any experience caring for your type of pet, please be assured that I will take detailed information from you when we meet for the first time. I will also educate myself about your pet prior to caring for it.

The first time we went out of town for a long weekend after getting our pet rabbit, Louis, our friend was supposed to check in on her.  When we got back a few days later, she was starving and thirsty as our friend had forgotten.  That's when we decided we needed a reliable and trustworthy sitter.  A friend recommended Amy and we couldn't be happier 4 years later. Amy is reliable, trustworthy, and worth the small cost to allow us to relax over long weekends or week-long vacations.  And the report cards she leaves are fun to read when we get back and know our pet has been well cared for." ~Eric S.