Customized Horse Care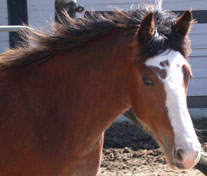 Horses have been a passion of mine as long as I can remember. I've owned, cared for and ridden horses since I was a child. In 1996, I successfully completed an 18-week Equine Management Program at the Kentucky Horse Park in Lexington, Kentucky. I then worked in several different areas of the horse industry for two years. I have experience working with and caring for horses including: studs, weanlings, yearlings, brood mares, race horses in training,
show horses in training, retirees of all shape and sizes as well as aging ponies prone to founder.
At the free initial interview, I will take detailed information so that I can customize care for your horses and barn and simply provide you a quote for the time it takes to complete the tasks required.
If two people are required to administer medications to horses additional charges will apply.