Recommended Veterinarians
The Airport Animal Emergi-Center is an emergency and critical care veterinary clinic who is open when your family veterinary clinic is closed. This clinic provided emergency overnight care to my dog, that saved his life.
St. Francis' Pet Hospital has locations in both Camby and Centerton. My pets and I receive excellent care at the Camby location.
Low Cost Clinics
Emerson Pet Clinic is a clinic on the east side of Indianapolis offering non-emergency pet care.
Holt Road Pet Hospital's mission is to provide pet care options that can accomidate any budget.
Exotic Animal Care
Avian Exotic Animal Clinic of Indianapolis provides care for reptiles, birds and mammals.
A Critter's Chance is a non-profit specializing in wildlife rehabilitation, and exotic as well as domestic pet rescue.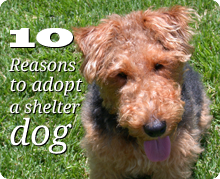 Breed Specific Rescue Groups
Midwest Border Collie Rescue works to rescue and place BCs mostly in Minnesota, Wisconsin, Illinois, Iowa, Indiana and Michigan.
Papillon Haven Rescue is saving pure breed and non-pure breed Papillons in need.
Find More Shelters
AnimalShelter.org lets you search for adoptable pets and shelters in your area.
Petfinder.com lists hundreds-of-thousands of adoptable pets from tens-of-thousands of shelters and fosters nationwide.