Skinner's Treats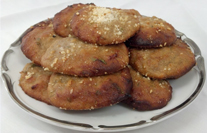 Peanut Butter Nanners
Bananas provide potassium and fiber. Peanut butter is packed with protien. Honey provides a bit of sweetness. Garbanzo flour and Almond meal take the place of flour while providing more nutrients. A bit of parsley keeps pooches breath fresh. Ingredients: Banana, Natural Peanut Butter, Honey, Garbanzo Bean Flour, Almond Meal, Parsley.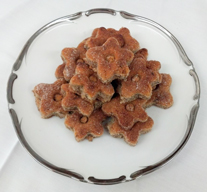 Calming Lavender Crunch
A crunchy, delightful cookie with a hint of lavender, known to relax anxious canines and humans alike. The organic lavender in these cookies comes from a family farm in Mooresville, Indiana. Ingredients: Banana, Brown Rice Flour, Garbanzo Bean Flour, Honey, Almond Meal, Fava Bean Flour, Lavender Flowers.
About Skinner's Treats for Dogs
I met Mary Skinner, her husband Jace, and their Australian Shepherd Cleo about eight years ago. We always had our mutual love of herding dogs to chat about when we ran into each other. I've been a big fan of her bakery, Skinner's Cupcakes & Pastries Inc., since my first taste of a Peanut Butter Fudgey Cupcake. When I decided to introduce the Amy's Happy Critters Presents line of locally sourced, high quality pet products I knew that Mary would be the perfect person to create and supply the dog treats that I wanted for my pet and yours. Her line of preservative free, gluten free, dairy free human grade Skinner's Treats are healthy and irresistible to people and dogs alike. Try one if your pooch will share!

What's in Skinner's Treats for Dogs, and Why
Skinner's Treats are gluten free, preservative free and dairy free. Each treat is about one half ounce serving. Treats are packaged in 6 or 12 ounce bags. They are packaged and approved for human consumpsion and they taste amazing!
Each ingredient of Skinner's Treats is chosen with your pet's health and happiness in mind. Individually they provide necessary nutrients and together form a treat no dog (or human) could resist. Check out some of the health benefits of the ingredients:
Banana
An excellent source of potassium and fiber

Helps maintain normal blood pressure and heart function

Promotes bone health-(helps body absorb calcium)

Antacid effect

Protects stomach

Brown Rice Flour-GLUTEN FREE
A good source of the minerals selenium and magnesium

Selenium- a trace mineral that has been shown to substantially reduce the risk of colon cancer

Manganese- This trace mineral helps produce energy from protein and carbohydrates and is involved in the synthesis of fatty acids, which are important for a healthy nervous system

Garbanzo Bean Flour- GLUTEN FREE
Digestive support: Studies have shown to control of blood sugar and insulin secretion


Raw Honey (from Hunter's Honey Farm in Martinsville, Indiana)

Doesn't ferment in the stomach
Can be used to counteract acid indigestion

High in antioxidants


Almond Meal- GLUTEN FREE

Has cholesterol lowering effects
Helps decrease after-meal rises in blood sugar

High in antioxidants


Fava Bean Flour- GLUTEN FREE

High in protein for energy
HIgh in antioxidants, vitamins, minerals, and plant sterols

Rich source of dietary fiber


Lavender

Prized for its soothing and calming effects
A digestive aid

Helps to relieve stress and fatigue


Parsley

Has long been thought to improve doggie breath
Can reduce allergy symptoms and aid kidney function

* These statements have not been evaluated by the Food and Drug Administration. this Product is not intended to diagnose, treat, cure or prevent any disease.