Viking Lamb Jerkey Treats for Dogs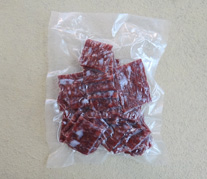 The lambs are locally raised by the Knudson family of Morriston, Indiana. Viking Lambs receive no growth stimulants or horomones. Each 4 oz pack is vacuum sealed for freshness. These high quality, 100% lamb treats are great for keeping your dog's attention during intense training sessions, when no ordinary treat will do. Each treat is about one inch square. Shiped frozen. Freeze for up to 3 months, refrigerate in a sealed container for 7-10 days. Ingredients: Lamb, water, salt, dextrose, sugar, spices, garlic powder, sodium erythorbate, sodium nitrite
I Wanted Safe Treats for my Dog, I went to Viking Lamb
My heart sinks everytime I read of another pet food recall. I'm filled with sadness for those who have lost their furry family members to contaminated treats and food, then dread and fear that it could happen to my pet or yours. Pet products are so highly processed and so loosely regulated that there seems to be an appalling trend of contaminated pet products that was brought to the forefront by the Melamine Pet Food Recal of 2007.
The most recent FDA warning regarding potientinally contaminated imported Chicken Jerkey Treats prompted me to think. I strive to eat local, stustainable, organic, hormone-free, antibiotic- and cruelty-free whenever possible. If my dog could eat the same way, we'd both be better off. After all, if you don't know where your food comes from how can you know that it's safe?
To this end, I am introducing a hand-picked line of products for your pets called Amy's Happy Critters, Inc. Presents. I am thrilled find local pet products, get to know the producers and I am confident that you and your pets will love them as much as I do.
Any product for sale under this label meets at least one of the following criteria:
Organic

Horomone free

Antibiotic free

Cruelty free

Sustainable

Local

About Viking Lambs
I'm pleased to present to you these dog approved, hormone- and antibiotic-free, sustainable, cruelty-free and locally produced jerky treats. I first met Terry Knudson and the family of Viking Lamb a couple years ago. We both had booths at a farmers' market. Terry and his family raise lambs for show and for meat on their farm in Morriston, Indiana. They produce many fine cuts for humans (most of my human family can attest to this), but also make Lamb Jerky Treats for dogs (furry family approved) that no pooch I've ever met could resist.
Not only do dogs love these treats, but I feel great feeding them. I love the fact that I'm supporting a local farmer, a local family and someone I know! Terry, Jane and their two boys are just like us; they could be our neighbors. They may be your neighbors! They take great pride in their livestock and actively compete in — and win — competitions. I know where these delectable jerky treats come from, I know they are safe and produced humainly, and now, so do you!
p.s. As a dog lover and pet sitter, I would like to note that Viking Lamb employs Great Pyrenees to guard their flock. The Knudsons and I also share an admiration for Border Collies. They hope to add a working Border Collie to their family in the near future.